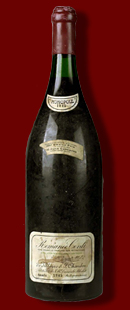 ROMANÉE CONTI
1945
Academy for Vintage Wines
The Academy for Vintage Wines, has been created to give an opportunity to people who own old wines to share them in meetings with people who are in the same situation. Many people own old wines and generally, they do not know with whom to share them.

My wine-dinners are organised with wines of my cellar to have only one person responsible for the event. The Academy is devoted to share the wines of the participants. The two organisations are different, but complementary.

Additional information can be read on the the blog www.academiedesvinsanciens.org Select the category "académie des vins anciens" and information is given in this chapter.
date
titre
comments
wine list
30/01/2008
bfdbfb
fqbbfbfqsdbbfsbfbf