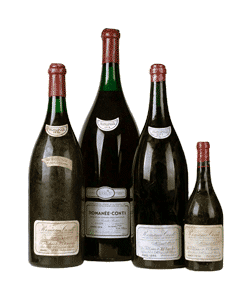 Different volumes of Romanée-Conti
Operational rules

Rule #1 : you attend a dinner. You will drink ten wines shared by ten people with a logical order associated to the menu.

Rule #2 : you will drink one tenth of every bottle. It is enough to really enjoy every wine. There is only one bottle per wine, which makes a homogeneous pour for everyone.

Rule #3 : there is no stress. Everyone is there to enjoy a nice meal and nice wines without being disturbed. No one should feel that he has not the background to enjoy such rare wines. We have, all of us, to be happy.

Rule #4 : the dinners respect your privacy. Your name and address will not be given to anyone. If reports of dinners are made in newspapers or TV, your image will only be used with your authorisation.

All our purpose is your greatest pleasure.